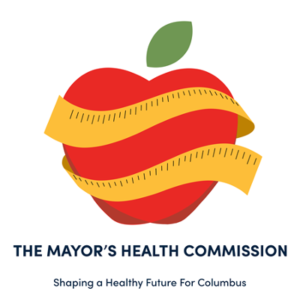 Welcome to the Columbus Mayor's Health Commission!
The Commission was founded by Mayor Henderson to develop a comprehensive program to improve the health of the people of Columbus.  The program seeks to reduce the incidence of heart disease, diabetes, stroke and cancer in Columbus.  Areas that the commission will look at include improving access to healthy food and increasing opportunities for physical activity.  The Commission is developing a two-part strategy to address these issues.  This is being created by two panels of the commission:  a panel to promote healthy lifestyles, and a panel to coordinate and expand safe and readily available healthy living opportunities throughout Columbus.  The panel to promote a healthy lifestyle is devoted to developing community-wide awareness about the risks to people with an apple body shape.  The panel to expand healthy living opportunities is working with various groups and organizations in Columbus to increase our resources for these opportunities.
We hope you will support the Commission and follow these developments.
The Risks of an Apple Body Shape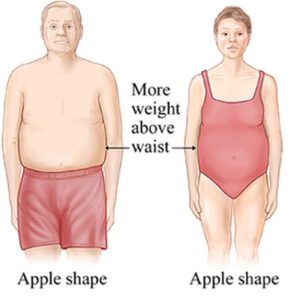 An apple body shape is scientifically defined as a body shape where the circumference around the waist is equal to or greater than the circumference around the hips. In other words, this is where the size of the waist is the same as or greater than the size of the hips. As many people gain weight, they tend to accumulate body fat in their belly, specifically in the major abdominal fat pad, called the omental fat pad. This enlarges their belly more than their hips.
This becomes a problem, because this fat pad makes a lot of hormones or hormonal factors. The more the fat pad grows from weight gain, the more these hormones are produced excessively. When the levels of some of these hormones are too high, they cause inflammation of body tissue. It is this inflammation that causes damage to the body over time. Thus, scientists see the apple body shape as a sign that the person has a higher risk of important medical problems than they should have.
KEY POINTS
• An apple shape leads to the excess secretion of hormonal factors, which lead to an increase in the risk of serious disease.
• People with an apple shape have a significant increase in their risk of heart disease, diabetes, stroke, cancer, osteoporosis, osteoarthritis, and joint replacement surgery.
• Eating high fat food worsens this condition, by increasing the secretion of the inflammatory hormonal factors.
• Exercise and healthy eating decrease the secretion of these hormones.
• The drug metformin appears to reduce these risks as well.
NEWS
The City of Columbus launches a new City Resource Center that is a one-stop community information and resource center for all citizens.
The City Resource Center is set up as kiosks in the following  Recreation Centers and Senior Centers where citizens will have easy access.  Kiosks will be added to other Rec Centers and Senior Centers as interest in the Resource Centers grows:
Gallops Senior Center
Frank Chester Rec Center (Super Center and Senior Center)
Fluellen Rec Center
29th Street Rec Center
Boxwood Rec Center
Carver Park Rec Center
Frank Chester Rec Center
Shirley B. Winston Rec Center
Northside Rec Center
Psalmond Road Rec Center
Fox Senior Center
Edgewood Senior Center
The City Services Center (CSC)
Metra Transit
The kiosk information and resource center include major categories with sub-categories.  Citizens may access a variety of valuable information to help enhance their livelihood.  The major categories on the kiosk include:
Employment – Job Search
Housing
Transportation
Health/Medical
Legal
Food
Other (other categories will be added as interest in the City Resource Centers grow.
Click here to access the kiosk:  https://columbusga.gov/kiosk
The City Resource Center benefits all citizens in the community.  Citizens can now access resources that may not be readily available to them and resources they may not know exist.  The City Resource Center will benefit anyone who has a need for information and resources including but not limited to:
| | |
| --- | --- |
| Youths and Adults | Senior Citizens |
| Households w/children | Military Families |
| Regular Citizens | Business Owners |
A special feature of the kiosks includes information on three mobile units that will soon be on the streets in various locations of the City.  The mobile units are the Mobile Food Market,  the Mobile Health Clinic and the Rollin' Recreation Mobile.
LEARN MORE ABOUT THE MOBILE OUTREACH PROGRAM
Mission:
To improve the general health and reduce the burden of chronic illness among the citizens of Columbus, GA, especially the demographic populations who experience a higher incidence versus the general population. Specific focus priorities include decreasing the incidence of food insecurity, mitigating the sedentary lifestyle of many citizens, and reducing the burden and incidence of: Diabetes, Cardiovascular Disease (Stroke, MI, CV death), and Cancer.
Brief Description of the Three Mobile Vehicle Programs designed to accomplish this mission:
A Mobile Food Vehicle (Mobile Market) will bring healthy foods into the most impoverished areas of Columbus, with some being given away for free and some being available for purchase. Any of these whole foods purchased with SNAP funds, will be at half cost (due to a partnership with Wholesome Wave of GA where SNAP benefits are doubled with matching funds). This Mobile Market will be equipped to give cooking demonstrations to citizens, ensuring that they will know how to prepare the healthy foods they will be given. In addition, whole food meal packs with all necessary ingredients for a family meal will be packaged and available for distribution with instructions on how to prepare and cook the meal included (similar to the "Hello Fresh" or "Blue Apron" models). The goal is to have two Mobile Market Vehicles in Columbus to sufficiently meet the needs of the community. The non-profit organization, The Food Mill, will operate the Mobile Market vehicle(s).
A Mobile Health Clinic (MHC) will go out into the most underserved areas of Columbus to meet the healthcare needs of the community. The MHC will conduct screenings and initial tests to identify underlying health issues needing to be addressed. A specific focus will be given to identifying patients with uncontrolled chronic illnesses, such as diabetes and hypertension. Citizens who are not currently under the supervision of a primary care provider will be assisted by a case/social worker who will connect them with needed resources such as obtaining health insurance, transportation, or medicine assistance. The goal will be to help these citizens overcome any obstacles keeping them from regularly seeing a primary care provider who can help them get these chronic illnesses managed so that negative outcomes (MI, Stroke, Cancer, etc.) will be avoided or deterred much longer. Piedmont Columbus Regional will operate the Mobile Health Clinic(s).
A Mobile Recreation Vehicle (Rollin' Rec Mobile) will go out into the community to engage citizens (primarily children ages K5 to 8th grade and their families) with fun activities to promote a more active lifestyle. The Rollin' Rec Mobile will partner with the Columbus Police Department and the Muscogee Sherriff's office with officers who will go out into the community to participate in these activities with children and their families. In addition to improving health by promoting a more active lifestyle, the Rollin' Rec Mobile will also promote positive relationships between these communities and law enforcement, and will reduce the temptation for children to join criminal gangs by promoting healthy and positive relationships among neighbors, citizens, and law enforcement. Columbus Parks and Rec will operate the Rollin' Rec Mobile.