Our mission is to promote and protect the health of people in Georgia wherever they live, work, and play. We unite with individuals, families, and communities, to improve their health and enhance their quality of life.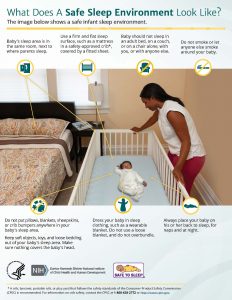 October marks the observance to Sudden Infant Death Syndrome (SIDS) Awareness month across United States. Nearly 4,000 infants die suddenly and unexpectedly each year in the United States. As of 2018, Georgia averages 3 infant deaths every week due to SIDS and other sleep related deaths. Many of these deaths result from accidental suffocation, overlay, and entrapment.
For more information regarding safe sleep, please click the following links: www.georgiasafetosleep.org and https://safetosleep.nichd.nih.gov/.
Services Provided:
Immunizations
Head Lice Checks
Hearing, Vision and Dental Screenings
Community Referrals
Provided For:
Immunizations Provided:
Tdap/Td
HEB
Pneumonia (seasonal)
Polio/IPV
Comvax
MMR
Varicella (chickenpox)
HIB
Flu (seasonal)
Provided For:
General Public  –  Please call for appointment
Telephone:
706-321-6230
Hours:
8:00 AM – 5:00 PM
Monday-Friday