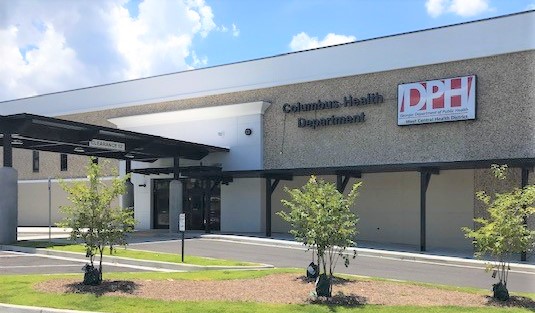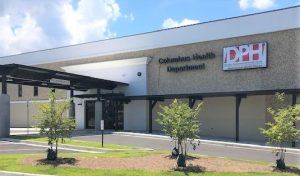 At the Columbus Health Department, we value each individual and strive to help everyone make informed decisions about their health and well-being by providing education and prevention services.
Columbus Health Department Clinics and Offices
5601 Veterans Parkway- Lower Level
Columbus, GA 31904
Phone: 833-337-1749
Fax: 706-321-6126
Nurse Manager:
Michelle Crawford, RN
Office and Clinic Hours:
Monday though Friday
8:00 a.m. to 5:00 p.m.
The Columbus Health Department will be screening ALL visitors for fever before anyone may visit any program or service.  
General Clinic
Clinic hours are 8:00 am – 5:00 pm
Patients will be seen by appointment.
Call 833-337-1749 or visit us to schedule an appointment.
WIC – Drive-thru Voucher Pick-Up in parking lot on the upper level facing Veterans Parkway.  Hours are 8:30 am to 4:30 pm. Please bring your WIC Folder or a picture ID.  New applicants may apply at Drive-thru area or over the phone.  Call 800-789-5502 to arrange mailing of vouchers. NO walk-in services until further notice.  For all other questions, please call 800-789-5502.
HIV Testing –  HIV Testing is available without an appointment. Hours are  8:30 am to 4:00 pm, Monday through Friday.  For questions, please call 706-321-6413 or 706-321-6426.
Environmental Health –  No walk up services are available until further notice.  Forms are available online. For questions please call 706-321-6170. Offices are located on the second floor of 2100 Comer Avenue.
     NOTICE: Fee Proration will be discontinued for Muscogee County (Columbus) effective January 1, 2022
Vital Records Annex
Located adjacent to the Department of Driver Services
8397 Macon Rd.
Midland
Hours
Tuesday – Friday
8:00 am to 4:30 pm
Saturday
9:00 am to 11:30 am
(Note:  the Vital Records Annex Location does not do Paternity Acknowledgements, Amendments to change mistakes on a birth certificates, Legitimization or Delayed Birth Certificates.  Please come to the main vital records office at 5601 Veterans Parkway for these services.) 
Children and Youth with Special Needs – 833-337-1749
Hours 8:00 a.m. to 5:00 p.m.
Dental Health – 706-321-6190
Open 8:00 a.m. to 5:00 p.m.
Closed from 12:00 p.m. to 1:00 p.m.
Call for appointment.
District Clinical Services – 706-321-6411
Open 8:00 a.m. to 5:00 p.m.
Call for appointment.
HIV testing daily- no appointment necessary.
Vital Records – 833-337-1749
Open 8:00 a.m. to 4:30 p.m.
Women, Infants and Children – WIC – 706-321-6374
Monday-Friday- 8:00 a.m. to 6:00 p.m.
Voucher Pick-up: First 5 days of each month- 8:00 a.m. to 6:00 p.m.
Saturday Schedule for new and existing applicants-Once a month from 8:00 a.m. to 1:00 p.m.
Appointment Hotline: 800-789-5502
WIC at Fort Benning – 706-682-8455
Located in Soldier for Life Center – same building as Commissary
Monday-Friday – 8:00 am to 5:00 pm
Vouchers may be picked-up at this location, or call to have vouchers mailed.
Certifications and re-certifications are done by phone.
Environmental Health– 706-321-6170
ServSafe®  Training Course
ServSafe® Food Protection Manager 8-Hour Certification Course(s) 
Below is information about two free Food Safety Online Courses provided by ServSafe. These courses are: ServSafe Food Handler  and ServSafe Takeout and Delivery: COVID-19 Precautions.    These courses do NOT take the place of our ServSafe Food Manager training we offer at CHD.
Please contact the Environmental Health Office at 706-321-6170 if you have questions regarding the ServSafe® Program.
ServSafe®  is a registered trademark of the National Restaurant Association Educational Foundation, and used under license by National Restaurant Association Solutions, LLC.
Body Art Inspections and Rules & Regulations
More about Columbus
Cure Violence Columbus
Mayor's Health Commission
2019 Muscogee County Community Health Assessment
We'd like your feedback on the Community Health Assessment.   Once you look it over please complete our community survey.