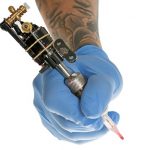 The Columbus Department of Public Health issues annual permits for Tattoo Studios located in Muscogee County. Inspections of these facilities are performed to ensure safety measures are appropriately taken by the operator of the facility.
If you are going to undergo a body art procedure in Muscogee County, please ask to see the Tattoo Studio Permit, the permit of the Tattoo Artist that will be doing your work, and the last routine inspection that the studio has received. All of these items should be posted in a conspicuous place on the premises.
If you have any questions about the permit status of a studio or an artist within Muscogee County, please call the Environmental Health Department 706-321-6170.
Establishment                                     Inspection Report Dates
13th Street Tattoo                                  3-25-22 /4-15-21
Above All Tattoos                                  3-23-22 / 12-15-20
Arch Angel Tattoo                                 3-18-22 / 12-10-20
Atomic Tattoo                                        3-25-22 / 11-3-20
Black Lotus Beauty Bar                        2-20-23
Black Lotus Tattoo Gallery                   3-18-22/  6-2-21
Broken Tarot, LLC                                   3-23-22 / 4-5-21
Electric Panda Tattoo Company         3-18-22/   6/29/21
Infamous Ink 2                                       2-23-23 /2-18-22
Inkphoria                                                  6-7-22
Iron Rose Tattoo Studio                        3-23-22 / 11-25-20
Little Bee Creations                               2-23-23 /11-12-21
Lion's Mane Tattoo and Piercing        3-3-23  /  6-9-22
Loyalty Tattoo                                         3-18-22 / 12-17-20
Mad Tatter Tattoo Parlor                      3-25-22 /12-17-20
Main Event Tattoo                                  3-23-22 / 6-14-21
Silver Eagle Tattoo Company              3-23-22 /5-25-21/  3-11-20
Smoking Mirror Tattoo Gallery          2-9-23
Soulbound Tattoo                                  3-24-22 / 12-18-20
XO Skin Studio                                        5-16-22
Rules and Regulations
Columbus – Body Art Studios and Tattoo Body Piercing Artists Rules and Regulations 1.4.2020