Nearly 1 in 4 American adults lives with diabetes.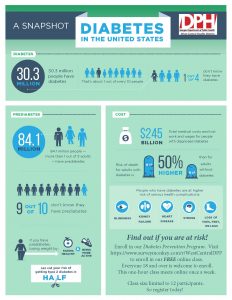 Additionally, approximately 1 in every 3 adults living
in Georgia is obese, a significant risk factor for diabetes.
Diabetes is a growing health problem in Georgia and is
even the seventh leading cause of death.
However, with lifestyle changes such as an increase
in physical activity, diabetes can be prevented.  Type 2
diabetes is a serious condition that can lead to health
issues such as heart attack and stroke.
The lifestyle changes you make in the our Diabetes
Prevention Program will help you cut your risk of
developing type 2 diabetes in half.
To sign up for our next online class, click on the link below:
http://www.SurveyMonkey.com/r/WestCentralDPP